Researched and Kindly Supplied by Ann-Marie Gould
Prior to coming to Bridgwater, the Binford family came from St Decumans in Williton, West Somerset. Our story begins with James and Melior Binford who had three children, William, Jane and Joane and resided at Stream, St Decumans around 1710. In 1717 James Binford passed away. Five years later his widow Melior remarried to Dr John Morgan of Bridgwater, a gentleman, well known for his boys' school in the town of Bridgwater. In 1732 property deeds (Bridgwater Borough Archives DD/DP/93/5) show that Melior took on a 'former house then a soap boiling house for ashes' with its stable, which on its east side abutted the end of Dampiet street in Bridgwater. This had been acquired from Jonathan Vinicott 'tinman, later wine merchant', who had acquired the lease from James, Lord Waldergrave back in 1723. When Vinicott died in 1741 the Binfords acquired the lease. At this point William was already a resident in Bridgwater and had married Elizabeth Newland, the daughter of a gentleman in Surrey. There does not seem to be any record of surviving children for the couple.
I believe that at this point Binford House was erected, at least the core of the building we see in later Victorian photographs.
We known Binford House was standing by 1736 as a faculty was granted then to build a galley above what is now St George's chapel inside St Mary's church, looking into the body of the church (as the focus of worship then was on a pulpit in the middle of the church, not on the high alter as it is today). It was set that this gallery would be part of the property of Binford House, so whoever owned the house would also own this gallery. We learn this from a report in the Bridgwater Mercury of the 1850s [any idea exactly when?], when the various galleries on the inside of the church were being removed as part of the grand 'Restoration'. The gallery was exchanged for two permanently reserved seats in the new pews for the owners of Binford House.
Either of these events, 1736 or 1850, may explain the presence of the arch folly in the house's gardens, which was partially made from the top of one of the gothic windows from St Mary's. Most pictures of Blake Gardens show this from the south, with its associated Summer House, although maps of the house show that it was primarily meant to be seen from the north, and was part of a small walled garden.
In 1743 Elizabeth, William's wife, passed away. Seven years later Willam Binford esq remarried to widow Phillis (known as Philly) Andrews in West Bagborough. I do not believe the couple had any children. William and Philly probably lived in Binford House, aspecially as William passed away, aged 69, in 1768 in Bridgwater. In William's will he left his estate and worldly goods to wife Philly Binford. He also left £50 to a woman Katherine Yorks and goods and money to his servants. Five years later Philly passed away.
Philly Binford left a lengthy will which is difficult to read in parts but it seems that William's named beneficiary Katherine Yorks once again benefited from The Binford Estate. It is unclear whether Katerine inherited Binford House as there were others named in the will, William Anderson of Bath, and nephews Alexander and Charles Popham and others. It is not clear how the property passed on from here, but Thomas Symes owned Binford House in the 1840s, either through marriage, inheiritance, or purchase. On the 12 May 1847 a notice appeared in the Taunton Courier regarding the sale of Binford House as well as a property in Nether Stowey on behalf of Thomas Symes, who had become bankrupt. Thomas Symes was the son of a wealthy landowner of the same name who owned Halswell Court and other properties in the area.
In this article Binford house is described as 'a property which enjoyed its own lawn, pleasure ground and river frontage. Inside – an entrance hall, dining room, breakfast and drawing room, library, seven bedrooms, dressing room, water closet, kitchen, pantry, cellar, domestic offices – and outside a yard with a coach house, stables, harness room, lofts and large garden bearing fruit trees'. The faculty pew belonging to St Mary's Church was also listed at this property. The property also had adjoining offices which were leased to Paramore and Ruddick solicitors. I have been unable to uncover any further details of Thomas Symes bankruptcy.
In 1850 Richard Smith, local solicitor and town clerk purchased Binford House.
Richard and Maria Smith 1850 – 1880
Richard Smith was born in 1815 in Bridgwater and was son of Richard Smith, a local shopkeeper. Richard married in 1838 in Williton to Emma Selena Bealy, the couple created their family home in Friarn Street where Emma gave birth to a son Richard Bealy Smith in 1842. Sadly Emma passed away on 20 March 1847, aged only 32 (although the papers reported 22), after ' a lingering illness'. She was buried the next day in the churchyard of St Mary's Church. In the churchyard of St Mary's a coped stone can still be seen. It reads: 'Harriett Ann daughter of Richard and Mary Smith died 29th October 1834, aged 18 years. Mary, wife of Richard Smith died 20 March 1847, aged 32 years". She was on 21 March.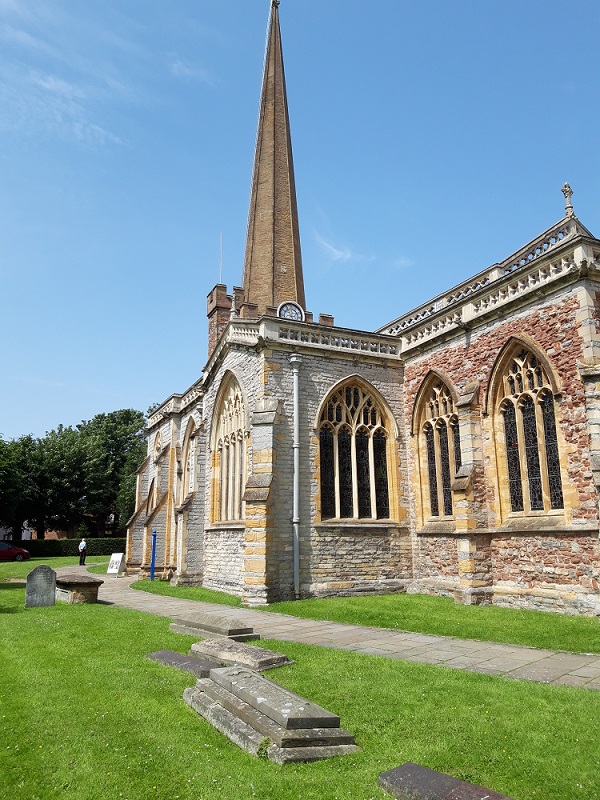 In 1849 Richard married Maria Kelsy in the bride's hometown on Kelsey in Warwickshire. In the following year he purchased Binford House. In 1851 the Smiths appeared on their first census records as residing at Binford House with two servants. The household was made up of Richard and Maria, two servants and Maria's three year old niece Helen Cissaman.
Richard Smith Head Married Male 36 1815 Solicitor and town Clerk Bridgwater, Somerset Maria Smith Wife Married Female 22 1829 Solicitors wife Astley, Warwickshire Sarah Picot Servant Single Female 23 1828 House Servant Watchet, Somerset Susan Pile Servant Single Female 26 1825 House Servant Ilfracombe, Devon Helen Cissaman visitor Single Female 3 1848 Gentleman's daughter Astley, Warwickshire.
In 1854 its seems Richard ended his post of town clerk which he had fulfilled for seven years and a dinner was held at the Albion to award him a silver tea service. Richard was described as carrying out his role in an 'able, honourable and zealous manner' Although retiring as town clerk Richard was continuing his role as a magistrates clerk to the town and sat on the board of the guardians of the poor. Wells Journal 1854:
TESTIMONIAL TO THE LATE TOWN CLERK A public dinner was held at the Albion, on Saturday evening last, for the purpose of presenting a silver tea service to R. Smith, jun., Esq., as a testimonial of the opinion of the Town Council of the satisfactory and honourable manner in which he conducted the duties of his office as Town Clerk, for the last eight years. The following resolution received the unanimous votes of the Council:- 'That the best thanks of this Council are due to Mr Richard Smith for the able, honourable, and zealous manner in which he has fulfilled the duties of his office as Town Clerk during the last seven years, and therein entitled himself to the full confidence of the Council; and that it is the opinion of this Council that the public interest will be best consulted by his rendering the town a continuance of his valuable sercies' – 'that the best thanks of the Town Council be presented to Richard Smith, jun., Esq., for the judicious and careful manner in which he has advised the Council and conducted their business during the time he has filled the office of Town Clerk. That, whilst this Council cannot fail to express their sincere regret at the loss of those valuable services which Mr. R. Smith, jun., has so earnestly, faithfully, and honourably rendered to them since his appointment of Town Clerk, they are glad to know that those services will not be lost to the town, but that he will still be in a position, as the Magistrates' Clerk, to render to the authorities of the town, a continuance of his talents and judicious advice, which this Council are persuaded will prove alike honourable to Mr. Smith and beneficial to his fellow townsmen'.
By 1861 Richard and Maria had a change of staff as servants Susan and Sarah had now married and returned to their hometowns.
In the mid 1860s the election bribery scandal unravelled uncovering over 40 years of bribery and misconduct in the politics of Bridgwater. Being a staunch conservative, Richard, and his son Richard Bealy Smith were mentioned frequently in the commission's investigation with Richards wife Sarah giving evidence at the Clarence Hotel to the burning of documents. (more research needed in the election committee scandal).
In 1867 Richard senior resigned from his post as magistrates clerk and secretary due to ill health, The job was then given to his son.
We learn that at a meeting of the sub-Commissioners of Pilotage for the Port of Bridgwater, held a few days since at their offices in this town, Mr. Richard Smith, solicitor, who has for twenty years past filled the office of secretary, tended his resignation of that post on account of ill health. The sub-commissioners passed a resolution expressive of regret at the cause of their losing the valuable services of Mr. Richard Smith, and unanimously appointed the son of that gentleman – Mr. R.B. Smith – as his successor. At the same meeting there was under discussion an amended table of the rates of pilotage.
BRIDGWATER CHRONICLE Richard Smith, Esq. – We regret exceedingly to hear of the very serious illness of our much respected townsman, Richard Smith, Esq., of Binford House. He was seized very suddenly on Sunday morning, about six o'clock, while in bed, with paralysis. Dr Simmons, of Clifton, and Dr Farmer, of this town, are his medical attendants.
By the time of the 1871census Richard's health continued to decline and he had now resigned from all work.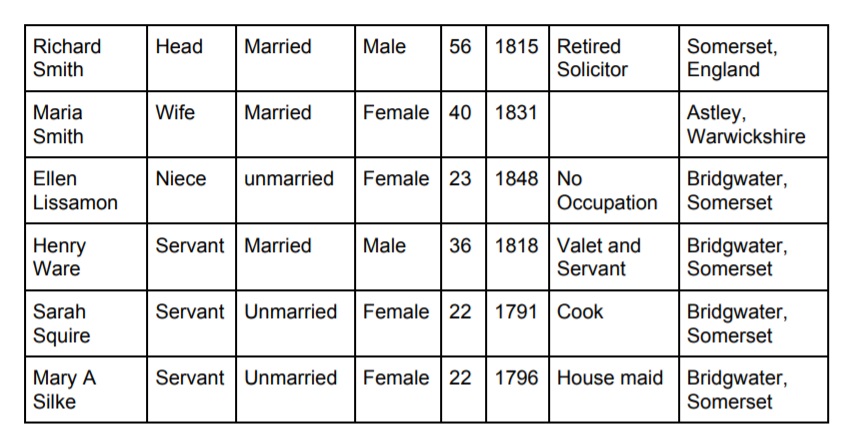 Richard Smith passed away in December 1880 aged 66 years. His death was reported in [newspaper]:
DEATH OF MR. RICHARD SMITHThe tolling of St. Mary's bell on Tuesday morning was the first information of the inhabitants received of the death, at his residence (Binford House) during the preceding night, of Mr Richard Smith. The deceased gentleman, who has been a confirmed invalid for a period of twelve or fifteen years, formerly enjoyed an extensive and lucrative practice as a solicitor. He was for many years the recognised agent of the Conservative Party in the borough, and for some time was Town Clerk, and subsequently clerk to the borough justices. When overtaken by illness his son (Mr. Bealy Smith) acted for some time as his deputy, and when Mr Smith's resignation was received the appointment was conferred on Mr. William Brice, Mr. Smith, who, amongst other public benefactions, gave, many years ago, a sum of £100 to fund an additional scholarship to King James' school (the interest of which must have since accumulated), as a P.M. of the 'Rural Philanthropic' Lodge of Freemasons, a P.P.S.G.W., and for some time also filled the position of P.G. Secretary. The funeral, which was a rather imposing one, took place on Tuesday. The funeral car, chariot and mourning-coaches with horses' plumes, were supplied by Mr. George Ricks, the undertakers were Messrs. Philipps and Co.; and the coffin, a very handsome one, was made by Messrs Davies and Son. The mourners included the Earl of Cavan. A large number of Masonic brethren and other friends of the deceased met the procession at the entrance gate of the cemetery, on the invitation of Brother Kemmis, W.M. of the Rural Philanthropic lodge, of which the deceased remained a member up to the time of his death. The interment took place in a newly-constructed vault, the officiating minister being the Rev. G. Trevor, vicar of Holy Trinity.
Richard Smith's personal estate was valued at under £8,000, and all passed to his wife, Maria.
Richard Charles and Maria Else 1887 – 1901
Richard Charles Else became the next head of the household of Binford House in 1887. Richard was born in Bath, Somerset in 1826. Richard was an accomplished civil engineer who, in partnership with Hennick and Spink founded the Bridgwater Iron Foundry.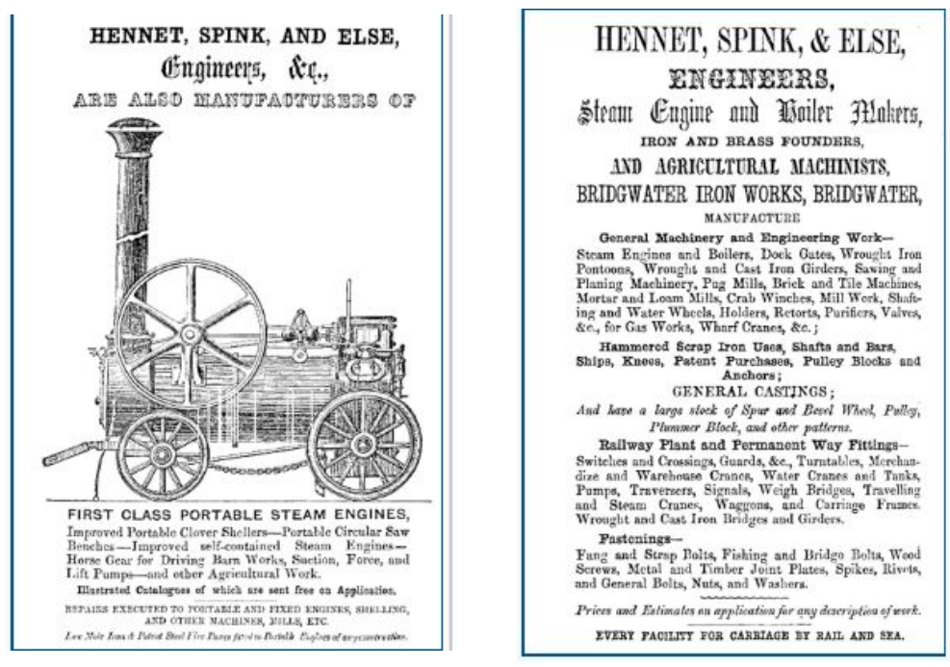 The Iron foundry provided a cast iron lighthouse for Watchet Harbour, the swivel bridge at Bristol Harbour and an Iron Bridge for Hampton Court. They also provided the CI lighthouse at Bustard Head in Queensland, Australia. In 1865 Hennet, Spink and Else dissolved their partnership, with Charles leaving the business, Hennet and Spink continued. Richard went on to work with Brunel in the construction of the Bristol and Exeter Railway and Saltash Bridge in Plymouth.
Although Richard had a successful career he was not so fortunate in his personal life. Richard was a widow by the age of 25 after losing his wife of only one year Zillah Rebecca Raggatt. Zillah did bear the couple a daughter before her death named Zillah Rebecca Maria Else but sadly their daughter died at the age of 21 in Australia.
It has to be assumed that Richard and Maria Smith and Richard Else were known to each other as all were involved in the politics and commerce of Bridgwater. Six years after the death of Richard Smith esquire Richard Charles Else at the age of 61, married his widow Maria Smith (Nee Kelsey) in London. We find a newspaper report of the time [details?] say: MARRIAGES: on the 10th at St. George's Hanover-Square, London, Richard Charles Else, J.P., of Bridgwater, and St. George's Club, Hanover Square, to Maria, widow of the late R. Smith, of Binford House, Bridgwater. After the marriage the couple returned to Binford House where they can be found in the 1891 census.
By 1901 Richard and Maria had left Bridgwater and were residing at Binford House, Victoria Square, Clifton Bristol. Maria Else passed away in January 1903 in Clifton, Bristol aged 74. Maria was returned to Bridgwater amd was buried alongside her first husband in the Wembdon Road Cemetery. She left effects worth £22,296 7s. 9d. to her husband and William Hellier Smith.
MRS MARIA ELSE, DECEASEDAll creditors and other Persons having any CLAIMS or DEMANDS against the Estate of Mrs MARIA ELSE, late of Binford House, Victoria Square, Clifton, Bristol, and formerly of Binford House, Bridgwater, in the county of Somerset, the wife of Richard Charles Else, Esq., J.P., and who died on the 3rd day of January instant, are requested to send particulars thereof to me the undersigned within ten days from this date. Dated the 12th day of January 1903. F.W. BISHOP, Solicitor, High Street, Bridgwater.
FUNERAL OF MRS ELSEThe funeral of Mrs. Maria Else, wife of Mr. R.C. Else, who died at 27, Victoia Square, Clifton, took place on Thursday, at Bridgwater. The funeral procession started from the house for Temple Meads in the following order:- First Carriage – Mr R.C. Else. Second carriage – Mr. Arthur Else and Mr. Sussex Cooper. Third Carriage – The servants of the household. On arriving at Bridgwater, the coffin was placed in an open car, and the procession was formed in the following order:- Carriage preceding the car, the Rev. Dr. Powell (vicar of Bridgwater), the Rev. Mr. Bazell (vicar of St. John's, Bridgwater), and Dr. L. Winterbotham. The chief mourners were:- First carriage – Mr. H. Hellier Smith and Mr. Arthur Else; second carriage- Dr. Bealy Smith, Mrs Hellier Smith, Miss Hellier Smith, and Mr. G. Tratt; third carriage – The servants of the household. Amongst the friends who attended at the Cemetery were Mr. John Burnett (of Highbridge), Mr. T.R. Dunsford, Mr. William Rice of (Portishead), the Mayor of Bridgwater, Mr. H.S. Major, Miss Major, Miss E. S. Jones, and Mr. W. Cox. Amongst those who sent floral tributes were Mr. R.C. Else, the servants of the household, Mrs. Perry, Miss M.S. Harris, Mr. and Mrs. Arthur Else, Mr. and Mrs. Hellier Smith, the Rev. J.E. and Mrs Else, Mr. Sussex Cooper, Mrs. Pearson and daughters, Colonel M. Long, C.M.O., Miss Maria Hewett, Miss Major, Mrs. Willis, and Mr. and Mrs. Rice. The funeral arrangements were carried out by Mr. C.P. Billing of Clifton, in conjunction with Messrs. Davis & Son, of Bridgwater.
Richard Charles Else passed away on the 30th December in Clifton, Bristol aged 78. Richard's funeral was held at Bath Abbey and he was buried in the Lyncombe and Widcombe Cemetery, with his mother and siblings. By this time he had moved to 18 West Mall, Clifton and he left £11,516 5s. 4d. to Arthur Edward Buxton Else gentleman and Frederick William Bishop solicitor. Frederick had been a Freemason, and had been Deputy Provincial Grand Master of Somerset for 27 years, Provincial Secretary for ten years before that and an executive officer for the province for 44 years.
An obituary for Richard Else can be read here.
In 1898 Binford House was purchased by Bridgwater Town Council from Richard Else. Over the following years the grounds of the house were joined to those of St Saviour's House and two adjoining fields, and the Durleigh Brook was culverted over to crest the Blake Gardens. Features of Binford House's gardens, such as the two Summer Houses, the folly, the River Walk and the avenues, were all uncorporated into the gardens.
The 1901 census shows us that Binford House was occupied by a Henry George Gadd with his wife Bessie and their five daughters. George's occupation was recorded as Gardener, so presumably the Borough Council employed George to look after the property, as well as the gardens, until the house was demolished and the library built. With the kind donation of £3,500 from Andrew Carnegie, Bridgwater's free library was opened in 1906.
The mention of the mayor laying the first foundation of the new library and newspaper reports of designs being tendered suggests that Binford House, the home of Richard and Maria, was demolished. I have not found definitive proof as to whether any of the library that stands now has an architectural characteristics or relics of the old family home that was Binford House.
Ann-Marie Gould 30 July 2019
With Additional notes from Mike Searle, Tony Woolrich and Miles Kerr-Peterson