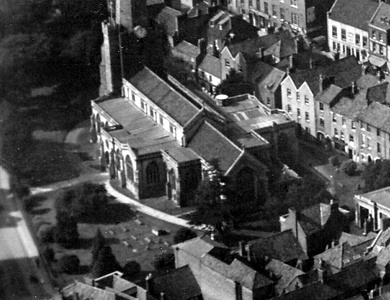 St Mary's was closed for new burials in 1854, although from time to time individuals had the right to be buried in pre-existing family vaults. The very last burial took place in 1866 and was recorded in the Taunton Courier, and Western Advertiser for Wednesday 14 March, Bridgwater Chronicle column.
Death of old Inhabitant, aged 102 years and 6 Months.
Mr James Hartnell was born in Bridgwater, in the county of Somerset, on the 16th day August, 1763, was baptised St. Mary's Church, September the following month, and died Monday the 26th day of February, 1866, aged 102 years and months. His occupation formerly was a sadler and harness maker. He commenced business in Eastover opposite the Globe Hotel. In 1795 he married a servant from Halswell House, the estate being at that time in the occupation of Lady Tynte. Mrs Hartnell died in 1846, after 50 years married life, aged 82 years, Mr Hartnell surviving his wife 20 years. He died without much pain, being perfectly sound in body. The first appearance of a change commenced about Christmas last, and since that time has been gradually sinking, and died very composed and resigned. His will is proved to be drawn in favour of several persons. To the Mayor, Mr George Parker, he has left £1,000; to two maid servants, £1,000 each; to the Infirmary, £200; the various schools, £100; to five distant relations, £500 each, and £100 to the poor of this town, be given away next Christmas. His remains were interred in a vault just outside the south door of St. Mary's church on Monday last. The funeral procession left St. Mary-street about 12 o'clock, through Dampiet street, George-street, through the centre of the town to our old parish church, where the service was performed the Rev. W. G. Fitzgerald, the vicar. We understand that this will be the last funeral that will take place at St. Mary's.
His political principles were changeable. In 1802 he voted Conservative for Pocock and Allen; in 1831 he plumped for Tynte; in 1852 he again plumped for Tynte; and in 1865 he voted for Westropp and Kinglake. will be seen his principles were not much to be relied on, and in his lifetime he was a great miser.
Tony Woolrich 21 May 2020
Addendum
Sydney Gardnor Jarman's "A Handbook of St Mary's Church, Bridgwater" (Bridgwater Gazette office, 1885) mentions a memorial 'against the wall by the south entrance' for James HARTNALL, died February 26, 1866, aged 102 years and six months.
This stone does not survive today.
MKP 18 July 2020