The Victoria County History for Somerset suggests that St Margaret's School was founded in about 1923 in King Square and closed in 1987. However, the institution seems to predate this, as a notice in the local press for April 1923 notes the death of Miss Jane Jefferson Williamson Thurnham, the elder of the two Misses Thurnham (the younger being Jane's sister), principals of St Margaret's School, Chapel Street (Taunton Courier, and Western Advertiser 18 April 1923). The school is mentioned much earlier, the Western Chronicle of 24 November 1905 describes a dozen girls from 'Miss Wither's St Margaret's School, Bridgwater'. How much the school pre-dates this is unclear.
In the 1911 Census, taken on 2 April that year, we find Emily Clarke Withers, of Clerkenwell London, aged 52 'Principal of Private School, at 'St Margaret's, King Street'. Also living there was Dorothy Jessie Cubison, aged 19, a 'student teacher', who came from Hampton Hill in Surry; Ethel Louise Redstone, aged 22 a general domestic servant of Croydon, Surry. There were only two girls boarding there, Miriam Horton Chapman, aged 16 and Evelyn Mary Chapman, aged 15, both of Willesden Middlesex.
The property was between 16 and 8 King Street. A contemporary postcard of the back of the school confirms this as present day Brent House, King Street. Why Chapel Street (usually taken as the street from Binford Place to Dampiet Street) was sometimes given as the address is not clear.
In the 1901 Census we find Emily C Withers working as a school mistress in the grammar school in Hitchin. She seems to have later retied to Newton Abbot, and died 6 October 1933.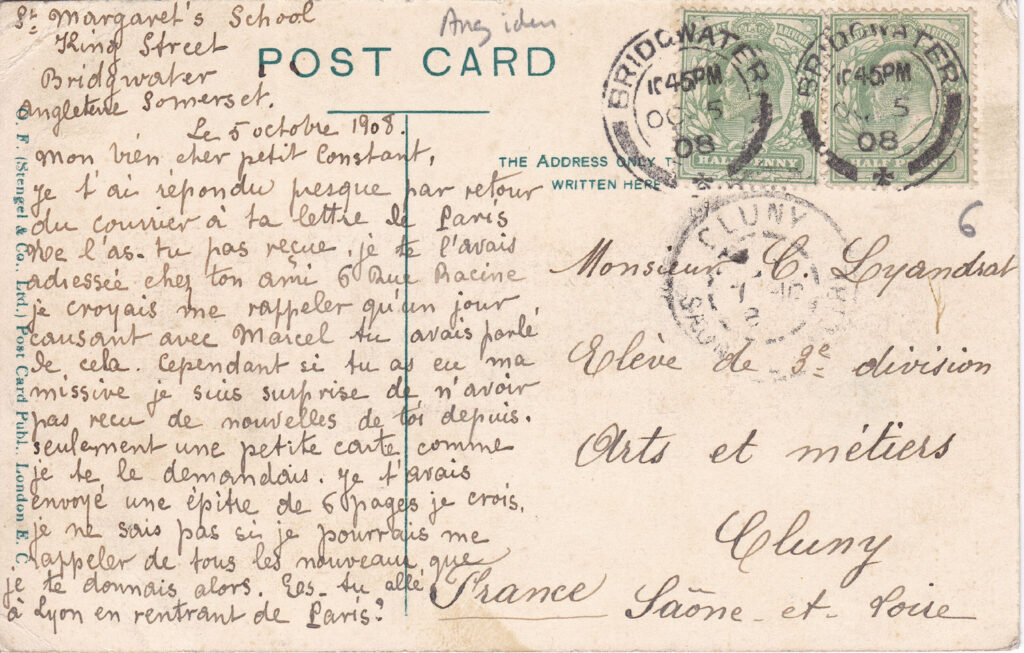 From King Street/Chapel Street the school moved to King Square, then to Taunton Road, although exactly when is unclear. The below advert shows they were in Taunton Road by 1928 at least. The school had moved to 36 Northfields by 1937, at which time Miss Roch, M.R.S.T. had taken over (Whitby's Directory, 1937). She is the focus of the two pieces of ephemera below.
A notice in the Taunton Courier and Western Advertiser of 19 February 1949 notes the death of Mr Harold Richard Jones, aged 56 at Bridgwater Hospital, principal of St Margaret's Preparatory School. Jones was the son of a Welsh clergyman. He had trained as a teacher, but had gone into business, which had bought him to Bridgwater. While in the town he returned to teaching at St Margaret's. During the Second World War Jones and his wife had taken over the school when the previous principal retired (presumably Miss Roch). His wife appears to have continued at the school for a long time thereafter: in the 1960 Kelly's Directory we find that Mrs H. Jones L.R.A.M., A.L.C.M., as principal. At that time junior pupils were taught at 36 Northfield and seniors at 101 West Street.
By the 1967 Directory the school was entirely held at Northfield. Another building seems to been used in Wembdon Road up to the school's dissolution in 1987 (VCH).
MKP If you have more information to help fill out this page, or personal memories, please get in contact.