George V and Mary, 22 June 1911
Shepton Mallet Journal 31 March 1911 – a public subscription had been gathered to pay for the celebrations, and tickets were sold for the coronation event, the proceeds being distributed to the poor and elderly persons over 65. Children under 14 would be presented with medals.
Western Daily Press 23 June 1911 – bunting had been spread around the town, most houses were decorated with flags, while the municipal buildings were adorned with evergreens, banners and flags. Early in the morning bells were rung from St Mary's and a silver shield was presented to the 3rd Patrol of Bridgwater Scouts by the mayor, which he had paid for. Church services were held, then processions, joined by the local companies of Territorial soldiers and the Army Service Corps, along with the boy scouts. Service in St Mary's church was conducted by Rev. A.H. Powell, while the Dissenting Congregations held a combined meeting in the Fore Street Congregational chapel, where all the respective ministers spoke. Shortly after noon a huge gathering was held on the Cornhill, where the Mayor gave an address to the new king, which culminated in a feu-de-joie by C and D companies of the 5th Battalion, Somerset Light Infantry. The a procession marched through the town, then a gala and fete were held on the Taunton Road football ground.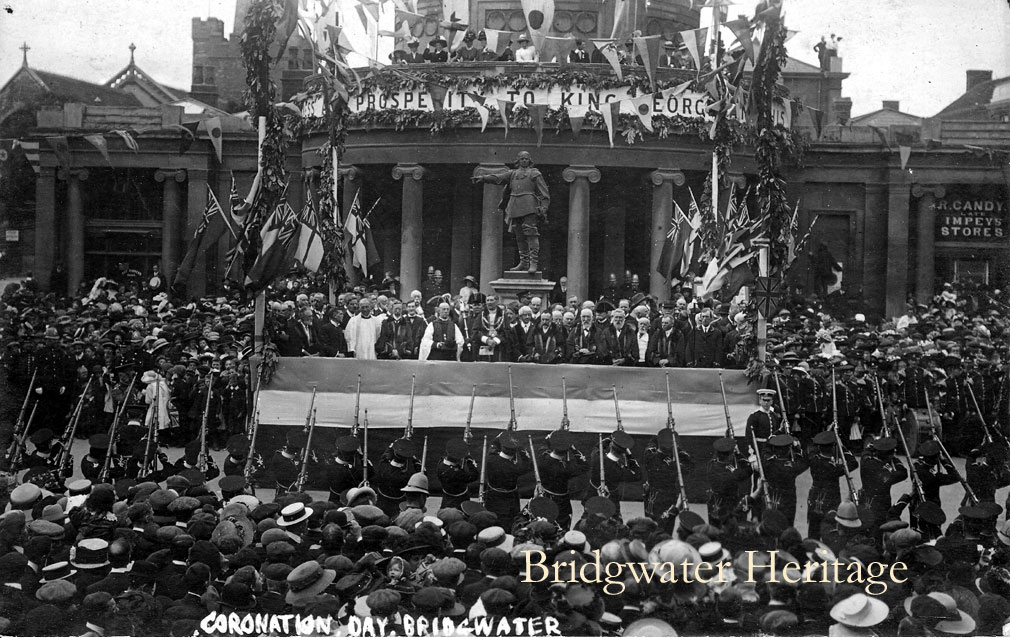 George VI and Elizabeth, 12 May 1937
Taunton Courier, and Western Advertiser 08 May 1937 – the planned Coronation festivities. The town was being lavishly decorated under the supervision of the Borough Engineers, the crowning feature being the transformation of the Cornhill Market house dome into the crown. The Town Hall was also decorated with garlands, bunting and flags, with GOD SAVE THE KING running the whole length of the building. Two coronation arches were erected at either end of the town bridge. Souvenir mugs were given to schoolchildren. Distributions would be given the poor and elderly. Come coronation day, after noon the Mayor would give a speech at the Cornhill to the town's schoolchildren. Afterwards the Mayor would plant an oak tree in Blake Gardens. Tea would be provided to school children, and patients in the hospitals and care homes, and supper to the inmates of the Workhouse. The Christie Band would perform on the Cornhill, a ball would be held in the Blake Hall, and a special Carnival procession and bonfire would be held, among other events.