Chubb Lithographs of 18th. Century Bridgwater
On 4 November 2003, Dr Peter Cattermole of Friarn.co.uk bid successfully at Tamlyn & Son for a set of glass lantern slides of Old Bridgwater, Lot 193.
The slides were described as: "Formerly Belonging to J. H. Burge, Verger of St Mary's Church, Bridgwater". The small cardboard box in which the slides were contained supported the description in the catalogue. Inside the box was a loose label informing the purchaser that: "The Vendor's Grandfather was Verger of St Mary's Church Bridgwater".
The slides were fine-grained photographs of seven of John Chubb's lithographs of Old Bridgwater, and are reproduced below. High resolution 600dpi images (about ½MB each) may be downloaded by clicking on each small image below. If reproduced, please acknowledge this source.
The lantern slides capture some mid-nineteenth century lithographs, which are in turn based on some watercolours made by John Chubb (1746-1818) in the last decade of the eighteenth century and first of the nineteenth. It seems Chubb was especially fond of recording structures that would soon be demolished.
At the request (probably the patronage) of Colonel Tynte, MP for Bridgwater, the watercolours seem to have been converted by John Chubb's son, also called John Chubb, and Charles Joseph Hullmandel into Lithographs. DAY's Lithographic Press Company was employed to produce these, and later one of Bridgwater's first photographers, Robert Gillo then reproduced these lithographs as photographs. These lantern slides were made by Ilford Limited of London. Due to the two layers of mediation, we should use these images with some caution as historical sources, as often the perspective, proportions and details might have been garbled during their composition. However, setting that aside, these are still fantastic records of the town's lost heritage.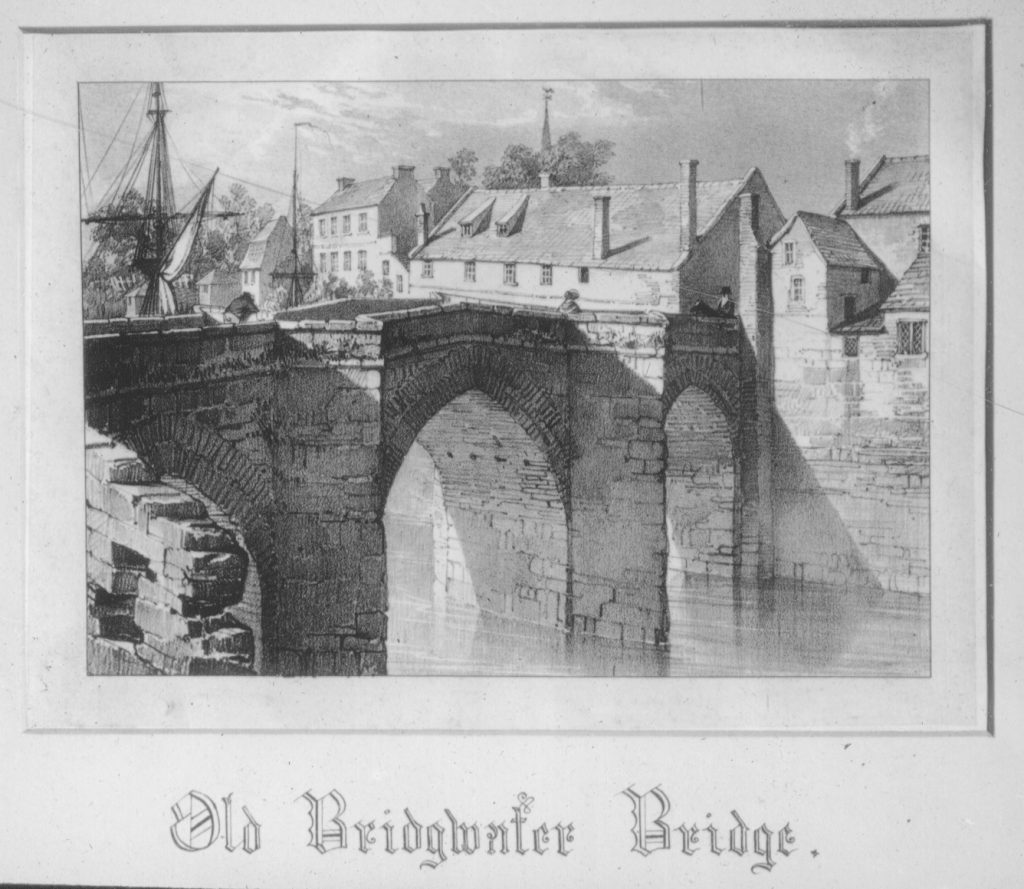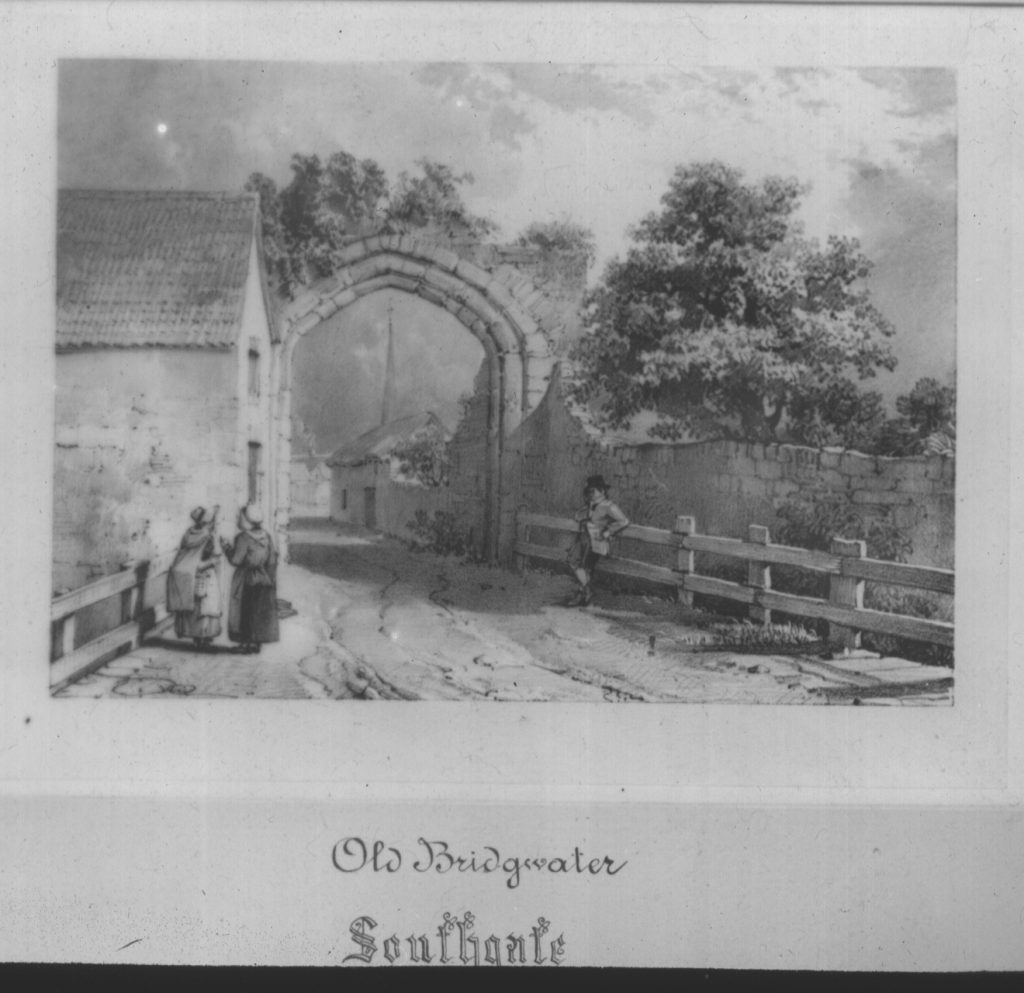 The Cornhill
This image was not among the lantern slides in this collection, but can be viewed here.
This view is taken from the top of Fore Street, looking towards St Mary's Church. The closest building on the left no longer survives. The next one, with the distinctive upper central window does, however, and is currently the Cornhill Inn. At the time of Chubb's picture, this was the Swan Inn. Next along is a building that would become the first Thompson's Ironmongers, which does not survive. Three more buildings along this row are omitted here, which were probably out of perspective when this image was first painted by Chubb. Not much can be seen of the church in this view, although it is interesting to note the wall and railings – note there does not seem to be a gateway into the church on this side at this time. The most obvious feature of this picture is the glorious jettied timber-framed building, not too dissimilar to King John's Hunting Lodge in Axbridge, which dates to about 1460. Chubb was no doubt recording this before its imminent demolition to make way for the new Market House, in about 1800. The building to the right of this is mostly obscured. In form, with its low-pitched gable it seems slightly similar to Hooper's on High Street.