1832-08-27-Vol-2-no-56

Notes on the 27 August 1832 edition:
Corn Prices in Bridgwater: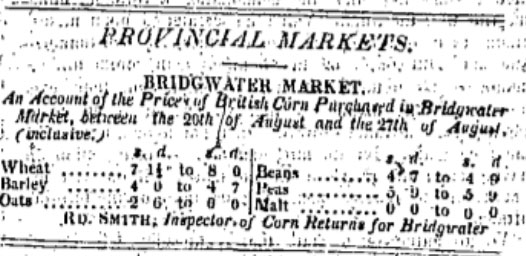 Editorial complaints of the implementation of the 1832 Reform Act.
Infirmary Report of patients admitted, discharged, remaining and died:
Mention of Mary Anning finding fossils.
Results of the Bridgwater Races, including the winners and the names of their horses: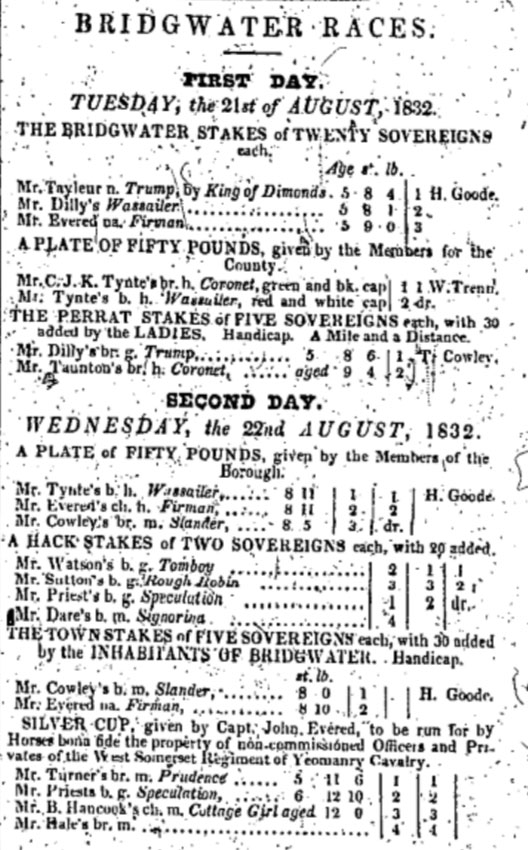 Letter by Thomas Woodward to the Mayor and Council of Bridgwater, urging them to enforce the vagrancy laws to help halt the spread of Cholera: he complains of the 'multitude of vagrants, who are constantly arriving here and infesting our streets'. It is unusual for a letter to bear the name of the writer.
Report that Taunton is healthy after the case of Cholera there last week. No further cases have been reported yet (to 27 August 1832).
Report on the results of the Somerset Assizes, with mentions of those sentenced to death, to be transported for life, transported for seven years, or imprisoned, with notes on what they were convicted of, and occasionally where the crime took place.
Report on the American method of planting potatoes: dig holes three feet apart and line the pit with dung, then plant three or four sets. The English method puts too many in the ground too close together.