1832-07-09-Vol-1-no-49

Notes from the 9 July 1832 edition:
Notices for Game and Ale Licence reviews to be held.
Note of the Quarter Sessions held at the Assize Halls, although there were only two prisoners.
Report of a meeting held in the town hall held by Mayor J.R. Poole to consider the town sending an address to the king to show their support on his deliverance from an assassination attempt. The notion was proposed by Mr Sealy and seconded by Alderman Anstice.
Report on the attendance of the Session Ball: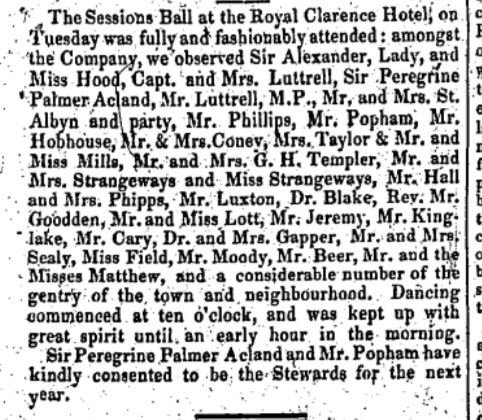 Meetings in the Clarence Hotel for the political campaigns of Mr Dickinson, William Miles and Mr Luttrell.
Notice of the Midsummer sessions for the County of Somerset, and lists of those Transported to Australia for life, 14 years and 7 years, along with lists of those imprisoned and how long for.
Note of a sermon given by Reverend Samuel Starkey in aid of Bridgwater Infirmary,
Report of a man called Hodges who was visiting Bridgwater to give evidence at the quarter sessions, but was knocked down on the bridge by Mr Piggott's carriage. He was quickly carried to the Infirmary on a shutter and seen to by Mr William Trevor, the surgeon of the week. Hodges thigh bone was broken in two places with other injuries, and his leg had to be amputated.