1856-1949
Jarman was born in Tiverton, Devon, a son of Thomas Jarman and worked as a newspaperman in Tiverton at the Tiverton Gazette. It is not known where he was educated. He belonged to a volunteer Battalion of the Devonshire Regiment,and was an excellent shot. He was a keen sportman, participating in running, hurdling, angling, skating, rugby and association football. But his main interest was cycling, winning numerous prizes riding a 52-inch "Penny-Farthing" round the highways and byeways of Devon and Somerset.
He moved to Bridgwater to edit the Bridgwater Gazette in 1871, then to St Ives, Huntingdonshire, 1890 to become Managing Partner of Hunts County Guardian and finally to Wrexham in 1894 where he became Propretor and Editor of the North Wales Chronicle. He was active in civic life there, serving on the Borough Council. He was Mayor, 1913-1914 and 1914-1915, an Alderman until 1945, and JP from 1915. He was awarded the Freedom of the Borough in 1931. He served on the Highways, Education and Public Library Committees.
During the First World War he established a 'Pals' (13th) Battalion of the Royal Welch Fusileers, to raise recruits, and with his wife did much to aid Belgian refugees in the town. Mrs Jarman was awarded the Medal of Queen Elizabeth of Belgium for her services. The Burgomaster of Antwerp presented a Belgian flag, which was flown in Wrexham for the duration of the war.
Jarman was Churchwarden at Rhosddu; a Governor of Wrexham, County Schools; President of the Wrexham Peripatetic Society, which visited local beauty spots; President of the Wrexham Bowling Club. He was chairman of the Liverpool District of the Institute of Journalists.
He married Mary Hooper (1859-1938) of Tiverton. They had 5 sons. He died in January 1949, aged 92.
We are particularly grateful to Mr John Davies of Wrexham for sending photocopies of contemporary newspaper obituaries of Jarman, from which this biographical account had been written.
He wrote a number of books on local history and topography:
A verse history of Tiverton Castle (the publication of which is something of a mystery. Jarman mentions it in his History of Bridgwater, but we have not been able to trace it).
A Visit to Cannington, Reprinted from the Bridgwater Gazette, 1881
A Handbook of St Mary's Church, Bridgwater, 1885
A History of Bridgwater, 1889 (see below)
The Village of Wood Hurst … Reprinted from the Hunts County Guardian, 1889
The Bridgwater Infirmary: A record of its rise and progress, 1890
Two Continental trips (Holland and Belgium), 1892
Trades and industries of Saint Ives. Reprinted from The Hunts County Guardian, 1893
The Village of Old Hurst … Reprinted from The Hunts County Guardian, 1893
Coals of Fire, and other stories, sketches, and poems. Saint Ives: Hunts County Guardian Printing Works, 1893
Notes on a Week in Belgium, 1894
The village of Gresford: past and present, 1902 and 1912
A Scamper through Belgium. The new L. & Y. route to the Continent … Reprinted from the North Wales Guardian, 1906
Chapters from his History of Bridgwater, (1889)
A Editorial Introduction – Tony Woolrich, 2020
B Front Matter
I. Early Times 1
II. Under the Romans 4
III. The Danes 8
IV. The Norman Conquest 15
V. The Manor of Bridgwater (& St John's Hospital) 18
VI. The Castle of Bridgwater 26
VII. General History (1138-1300) 31
VIII. General History (1500-1620) 36
IX. Siege of Bridgwater 43
X. Local Coinage 57
XI. Drainage Works 60
XII. Admiral Robert Blake 63
XIII. General History (1650-1700) 73
XIV. The Battle of Sedgemoor 78
XV. The Bloody Assize 95
XVI. General History (1700-1800) 99
XVII. Bridgwater in the Eighteenth Century 106
XVIII. General History (1800-1840) 111
XIX. Railway Matters 119
XX. General History (1840-1860) 123
XXI. General History (1860-1889) 129
XXII. The Water Supply 139
XXIII. The Population 144
XXIV. The Volunteer Movement 146
XXV. The Political History 149
XXVI. The Borough Muniments 160
XXVII Bridgwater Journalism 171
XXVIII Freemasonry 175
XXIX. Friendly Societies 178
XXX. The River Parrett 198
XXXI. The Churches of Bridgwater 201
XXXII. Nonconformist Places of Worship 216
XXXIII. The Charities 229
XXXIV. Public Buildings and Institutions 223
XXXV. Proposed Ship Canal 240
XXXVI Miscellaneous Notes 244
XXXVIII. A Concluding Retrospect 259
Appendix (MPs, Mayors, Recorders and JPs) 263
List of Subscribers 279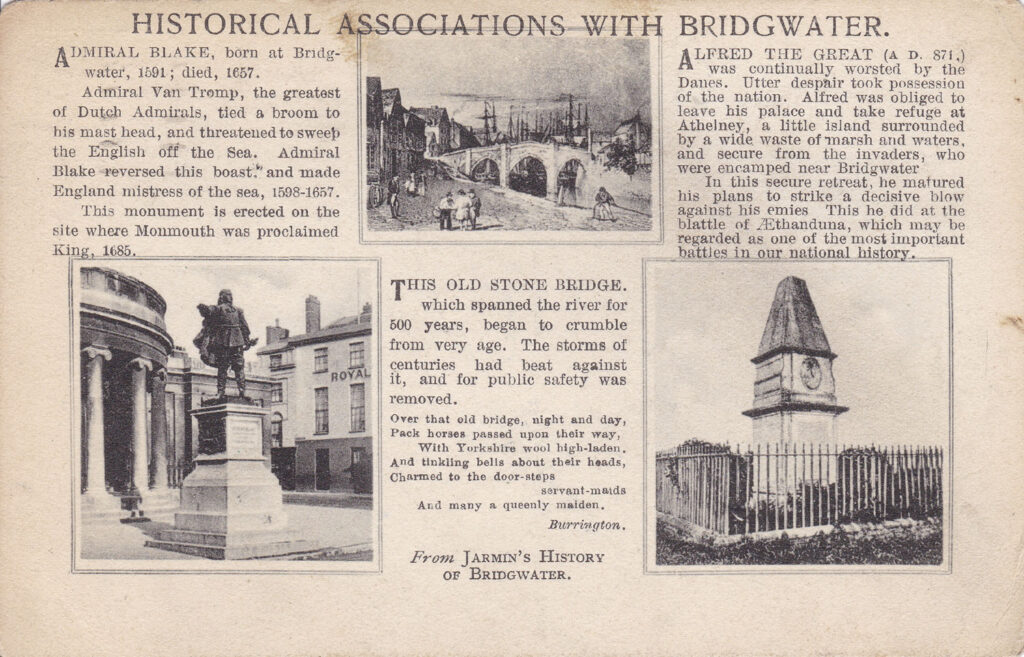 Also See
Notes and Queries, Review of Jarman's History of Bridgwater, 1892.