with notes by Dr Peter Cattermole and Miles Kerr Peterson
The Seal of the Commonality
in use at least between 1313 and 1343
The seal of the community or commonality of Bridgwater (in green wax) is attached to an undated (prob. early 13th century) manuscript 'Ordinance of the Burgesses' [No. 10 in SRS 48; SRO D\B\bw/132]:
Ad amorem et caritatem inter nos nutriendum et lites et rancores reprimendum
For the nurture of love of and charity among us and for the prevention of quarrels and bickerings.
Thomas Bruce Dilks interprets this seal as "castle with portcullis and three towers" [No. 10 SRS 48] and "a triple tower with portcullis, surmounting a triple-arched bridge under which flows the river"[SRS 48 xiii]. The illustration above however shows four arches.
A fragment of the the seal of the community is attached to the Will of Gilbert Russel, which is dated 20 September 1317 [No. 80 SRS 48].
Dilks considers that "the wooden bridge shown on the seal of the community is of course conventional" [SRS 48 lii]. He notes: "But the earliest bridge must have been of that material, and according to Leland's tradition the 'right ancient stronge and high bridge of stone of 3 arches' had been 'begon of William Bruer.' There we must leave it, for Trivet's building comes later" (1395).
What is the evidence for a 13/14th C. bridge?
Trivet's bridge is described in the deed of defeasance [No. 477 SRS 53] as la novel pont de Bruggewater, the new bridge.
That there was an old bridge preceeding it is suggested in several documents.
King John's charter of 26 June 1200 (?) granted to Willelmo Briwer that Brug' Walt' should be a free borough with the right to raise pontage (fees for the construction & maintenance of a bridge)
in the early 13th C., the Burgesses granted a lease of unum dimidium burgagium ultra pontem half a burgage beyond the bridge [No. 23 SRS 48]
by his will, Gilbert Russel [1317, v s] left xs ad emendos lapides ad viam corigendam inter hospitale et pontem (10s. to buy stones to mend the road between the hospital and the bridge)
all Hugo Godwyne's tenements in occidentali parte pontis were devised to his son John and in orientali parte pontis to his son Richard in the early 14th. C. [No. 107 SRS 48]
conveyance of a tenement on 31 May 1355 scituato in alto vico ex opposito castri sicut itur a magno ponte ad forum [No. 176 SRS 48, and disposal in 1363 [No. 207 SRS 48]
conveyance of a mesuagio … magni pontis in alto vico sicun itur de dicto ponte versus ecclesiam paroch on 8 June 1355 [No. 177 of SRS 48]
conveyance of a tenement on 5 January 1371 in vico sicut itur … et magnum pontem [No. 260 SRS 48]
in the record of debts outstanding to the parish church in 1373, there are five names associated with cicus inter pontem et cimiterium [No. 283 SRS 48]
the receiver of the community 1373-75 accounts for 6s from Ric. Peke for the rent of the house on the bridge domus super pontem for three terms [No. 297 SRS 48]
by 1540: The Borough Seal
1650: The Maces
1666: Bridgwater Farthing
c.1735 John Strachey
1792: Wax Seal Issued by the Mayor, Aldermen and Burgesses
1795 Iron Bridge Plaques
1797 Printed Borough Seal
c.1800 A Bridgwater bank note
1815 Button from the Bridgwater Volunteers
1850s Mayor's Pew, St Mary's Church
1873 Letterhead for Major's Brick and Tile Yard
1876 Encaustic tile in St Mary's Church
1883 The Town Bridge Plaques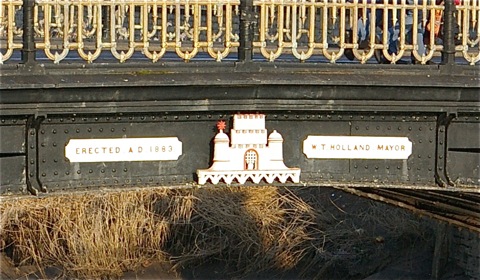 1883 Letterhead for T.H. Boys
1901(?) Cast Borough Seal, Blake Gardens
1902 Borough Coronation Medal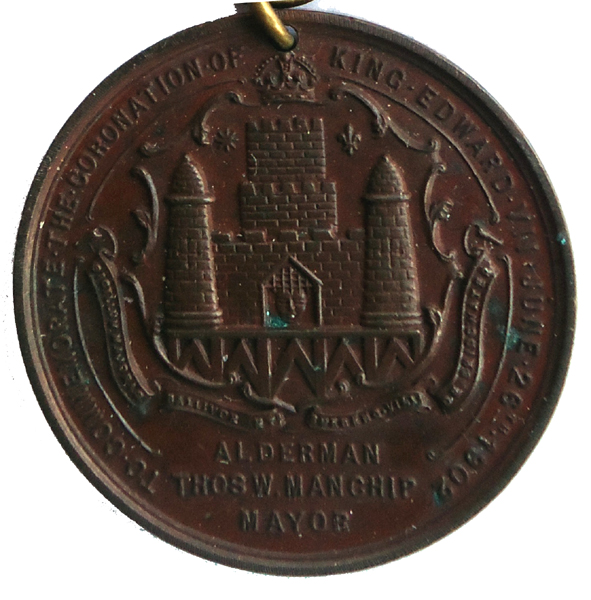 1905 Postcard Shields for Bridgwater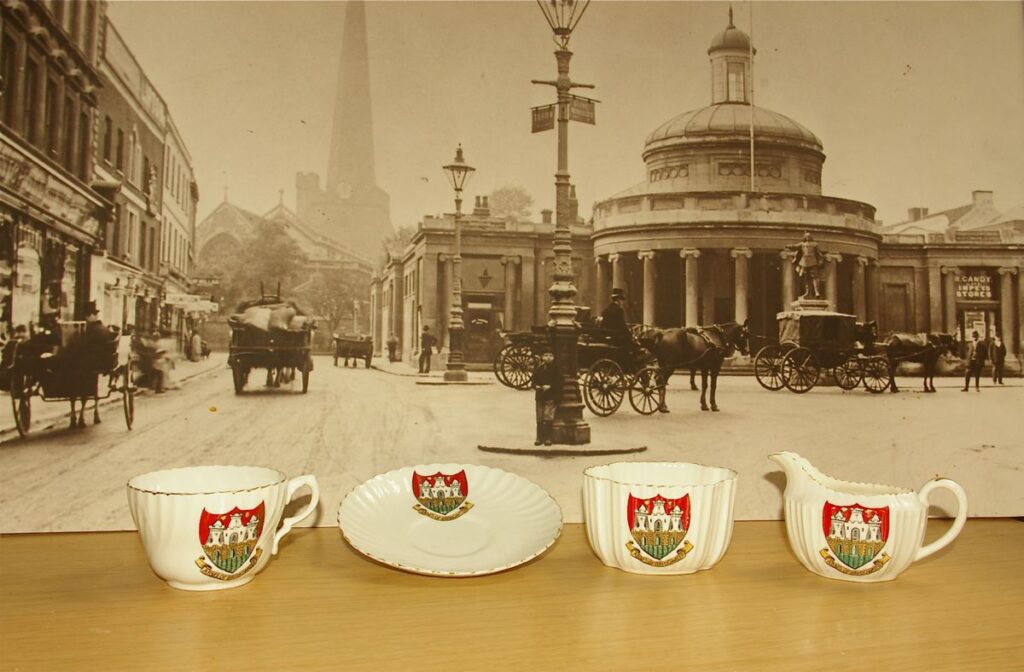 1911 Borough Coronation Medal
c.1914 Borough Seal from a Town Guide
1919 First World War Victory Medal
c.1919 Allotment Society Medal
1933 Embossed Book Stamp
1937 Borough Coronation Medal
1950 Letterhead for the Royal Clarence Hotel
1960 Seal on the cover of a Town Guide
Undated