The Bridgwater Free Library was made possible by the generosity of the Scoto-American philanthropist Andrew Caregie. There was once a bust of Carnegie in the entrance hall, donated by the former Town Clerk, James Cook, but it has hence dissapeared. After an architectural competition, the winning design was by E. Godfrey Page, in an 'Edwardian Baroque' style. The failed competition entries can be seen in the Somerset Heritage Centre A/CMY/138. Page had also worked on an extension to Dr Morgan's School in the town.
The library was extended in 1970, to the plans of N.J. Fisher,
Part of the old building was badly damaged by fire in 1978. The Bridgwater firm of Shirley-Smith Gibson & Rigler planned the restoration (see Somerset Heritage Centre A/CMY/204).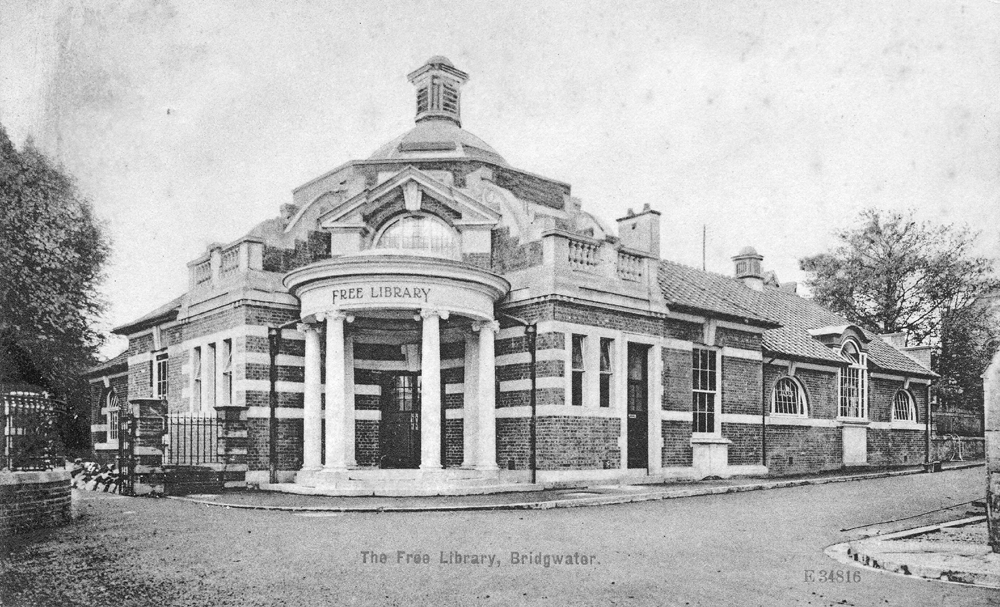 Weston Daily Press 21 September 1906
CARNEGIE LIBRARY OPENED AT BRIDGWATERYesterday afternoon the Mayor of Bridgwater (Alderman H.W. Pollard), in the presence of a large and distinguished company of townspeople, formally opened the new free library building, which have been erected through the generosity of Mr Andrew Carnegie, the total cost being £3,500. The proceedings opened with prayer, offered by the Rev. Dr. Powell (vicar of St. Mary's), after which the architect (Mr E. Godfrey Page) gave a short description of the building, and on behalf of the contractor (Mr C. Bryer, jun.) and himself, presented the Mayor with a golden key as a memento of the occassion. The Mayor, in declaring the building open, gave an interesting address, pointing out that a free library should be practically an evening school. He hoped it would be used in this sense in Bridgwater. Dr. W.L. Winterbotham also gave a short address on the subject of cultivating the reading habit in the young. The Mayor proposed, and Alderman Alfred Peace seconded, a hearty vote of thanks to Mr Andrew Carnegie for his generous gift. On the proposition of Alderman F. C. Foster, seconded by Alderman William Thompson, a vote of thanks was accorded to the donors of books and subscriptions towards re-storing the library. Mr James Cook, of Weston, acknowledged the compliment. On the motion of Alderman T. Good. seconded by Mr. J.T. Dunsford. a vote of thanks was accorded the Mayor for preceding and opening the building. At the close, the lance company were hospitably entertained by the Mayor and Mayoress to refreshments.
MKP  July 2019.