I am grateful to the Magic Lantern Society for their help in compiling this page. A two-part article by David Henry appeared in their Journal Vol. 3 (1 & 2) in 1984, from which extracts are taken by permission.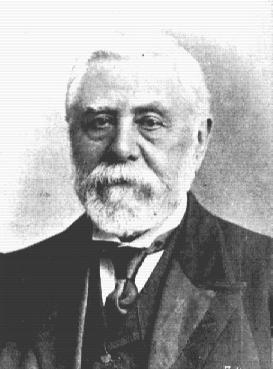 York & Son were a firm of photographers founded by Frederick York in 1863. Their principle output was of glass lantern slides, though the firm also produced a large number of photographs, particularly of London.
A good number of the York photographs of London have survived in the collection of the National Monuments Record. A short biography and references is given in the RCS/Cambridge catalogue.
Frederick York, the founder of the firm, was born in Bridgwater in 1820. In 1839, at the age of 16, he was apprenticed to a chemist in Bristol. Photography was invented the same year, and it is likely that he became involved in photographic chemistry.
In 1853, Frederick York emigrated with his wife to South Africa, where he set up a photographic business. This was successful, but he ran short of materials from time to time. His knowledge of chemistry was put to good use in converting Mexican silver dollars into silver nitrate, essential for the photographic process. He returned to England in 1861, accompanied by his two sons, William (born 1855) and Edward (born 1860).
He set up as a Photographic Publisher at 10 Lancaster Road, Notting Hill (re-numbered in 1868 to No. 87). From there in 1862 he began to issue photographs of London. Stereo views and lantern slides were produced and met with success. The London set was expanded to over 1,300 views and other towns were similarly covered. Slides, however, were most in demand and it was on the production of these that the firm concentrated. By 1910, there were 33,000 slides on offer.
In 1884, York & Son established a factory in Bridgwater at 32 Friarn Street (see below). By 1893, an estimated 100,000 glass lantern slides per year were being produced at the factory, which by then included the adjacent property No. 30. Mr York estimated that his total output between 1870 and 1896, if placed in a continuous line, would stretch from London to Manchester (184 mile), or. if placed on one another, would form a column 20,846 foot high. The weight of this output was 93 ton (which may explain why the floors in 32 Friarn Street are a little bowed).
A contemporary description of the factory was published in 1893, and is reproduced below.
Buildings A & B are shown in a photograph of 1878 (Squibbs No. 50)
Building A is still standing. It is panelled with tongued & grooved board.
Buildings C are described in the 1871 & 1898 Property Schedules as being a tool house, taken in with No. 32. They are demolished.
Building D is demolished. Because of its position, it may have been the negative store.
Building E is still standing. It contains some pipework. The dog-leg connexion to Building F has gone.
The base of Building F still exists. Its floor is at the same level as that of No. 32. Its west wall seems to have been built across the edge of the well.
Building G no longer exists.
Building H, shown hatched, and therefore glazed no longer exists, but traces of the roofline remain on the rear elevation of No. 32.
Building K was demolished probably ten years ago in order to provide a new extension to the rear of No. 30. A route into this building was provided from the inside of No. 32.
The purple outline represents the mediaeval outline of 32 Friarn Street.
The pale green outline is the unaltered boundary of No. 30.
Photographs of some of these buildings are known to exist in private ownership. Attempts are being made to obtain copies.
Frederick York died at the age of 83 in 1903. There is a commemorative window in the catholic church in Bridgwater.
His son, William, took over the business. However, the lantern slide declined in popularity, and the firm went into voluntary liquidation in 1912. It was sold to Newton & Co for £250. The new owners continued to trade under the name of York & Son, but closed the Bridgwater factory in 1912 or early 1913 and moved the London offices and studio to 3 Emperor's Gate, South Kensington. Finally, the firm closed in the late 1940s when Newtons were taken over by AEI. It is said that the York slides and negatives were dumped in the Thames, as being of no use to their new owners.
Links
The Quagga project
(F York took the only surviving photograph of this extinct species)
Dr Peter Cattermole 20 September 2009.